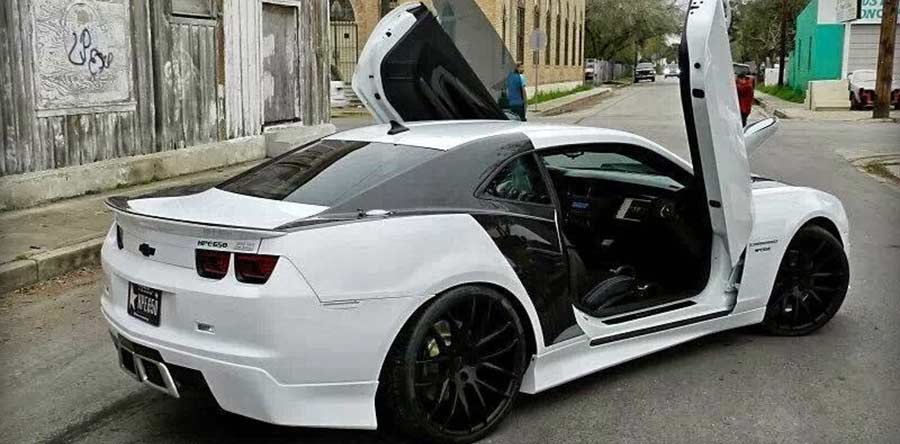 Miami's Lambo Style Door Conversion Experts
Looking to install a butterfly door conversion kit on your domestic or imported car or truck? Then you need to come see us. Car-Alarm-Miami.Com is South Florida's #1 Vertical Doors Dealer. We have more experience and more Lambo doors kits in stock than anyone else in the South East.
There are several Lambo door kit manufacturers in the market today. Many of them are made in China, out of substandard materials. This results in products that not only does not fit properly and performs poorly but also subject to a short life.
At Car-Alarm-Miami.Com we sell Vertical Doors Inc. kits. All Lambo door kits by Vertical Doors Inc., are made in the USA from the highest standard materials. Vertical Doors Inc., Lamborghini Style Door Conversions are custom fit and designed for each given application. However, regardless of the wide selection of bolt-on Lambo door kits in the market today, there are still quite a few car and trucks out there requiring a custom fitted universal kit. No problem!
At Car-Alarm-Miami.Com we have a lot experience in the installation of both universal and bolt-on Lamborghini Style Door Conversions for both imported and domestic cars and truck. So, if you have any question about custom, fit, or functionality stop by for a free consultation on not only our selection of Lambo doors conversion kits but all the services we offer to those seeking the ultimate in car audio, auto security, window tinting, and accessories…