Viper Car Alarm Miami
Anyone looking to protect their car, truck, SUV, motorcycles, ATVs, boats, PWCs, and snowmobiles should consider a Viper car alarm system. The name "Viper" has become synonyms with an alarm system for cars, but they are also a leading provider of Viper motorcycle alarms. The Viper Car Alarm systems are manufactured by DEI (Directed Electronics) the world's authority in not only in  Auto Alarm Systems but also remote start system, car window film, and an entire array of accessories to enhance the security level of your vehicle. As with any leading manufacturer of auto security and automotive electronic accessories Viper, makes a good, better, best for every product line they offer. Here are some of the most popular Viper car alarms in Miami.
Viper Car Alarm Entry Level 1-Way Security System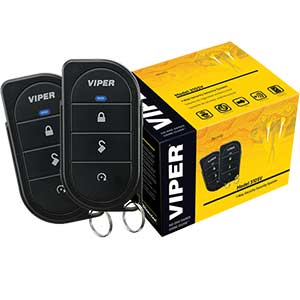 More than once throughout our website Car_Alarm-Miami.Com we have said that when it comes to alarm for cars, you should never cut corners. However, there is a huge difference between an entry-level Viper Car alarm and a cheap alarm! So, before you run to Google looking for car alarm installation near me, make sure you know what you are getting. Raging from the Viper 350 PLUS 3105V 1-Way car alarm keyless entry to the Viper Entry Level 1-Way Security And Remote Start System – 5105V, these are not cheap car alarm from the quality point of view. Not only are they back by Viper's no excuse national lifetime warranty, but the truth is the rate of failure is almost none existing. Standard features include the Stinger® DoubleGuard® shock sensor, Revenger six-tone siren, and Failsafe Starter Kill – Now featuring 4-button remotes, Control Center and XR+ receiver. This state-of-the-art system also offers in-demand convenience feature like keyless entry.
Viper LCD 2-Way Remote Start/Keyless Entry System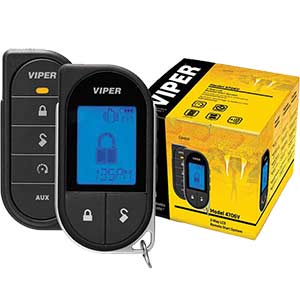 The latest generation of Viper's car alarms with 2-Way LCD remotes take not only vehicle security but convenience and reliability to a whole new level. Equipt with the all-new "Responder LC3"  remote, Viper's 3rd generation of the Responder with SST One Mile Range,  Priority icons and a liquid-crystal display that is 20% larger than before. The all-new LCD remote also has an onboard lithium-ion rechargeable battery with micro-USB recharging. With that said, the new Viper Responder still the slimmest display remote on the market today. Like many things in life, there has to be a balance between what something cost and what you get from it! The Viper LCD 2-Way Remote Start/Keyless Entry System offers just that! A highly reliable system with an awesome level of protection at a reasonable price.
Viper PowerSports Security System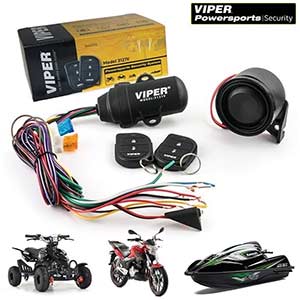 The Viper PowerSports Security System is a unique approach to protecting your so-called "Guy Toys." For starters, it is not a car alarm adopted for the motorsports industry it was specifically designed and engineered for motorcycles, ATVs, boats, PWCs, and snowmobiles. Compact and waterproof, the Viper PowerSports Security System features two small and easy-to-carry, 2-button waterproof remotes with up to 600 Ft. of range. Some of its top features include a closed-loop trigger, which is ideal for protecting helmets and, saddlebags, and other valuables attached to your motorcycle or ATV. Once the closed-loop trigger is broken, the Viper PowerSports Security System will activate. Additional features include an onboard shock & tilt sensor, extra trigger input, and auxiliary output. The system carries an IP66 rating; in other words, it is "dust tight" and protected against heavy seas or powerful jets of water and protected against immersion.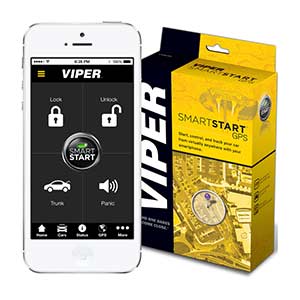 Whether you want to impress your girlfriend, your father-in-law, or are simply into gadgets, the Viper SmartStart System is for you. By replacing one of the most hated pieces of an alarm for car "the remote" with something everyone already has "a smartphone" Viper has revolutionized the industry. Yes, with this system you are not bound by range (as long as there's cell coverage) or have the need to carry additional devices in your keyring. This type of cellular phone controlled alarm for car reliability has been tested for yearsneedand it is at the point where several carmakers are offering as a dealer or factory option.  With the Viper SmartStart System you are connected to your car like never before. That means that you can control your car through the cloud via an app on your smartphone. The system allows for multiple cars on a single account and has multiple users per vehicle. Great for families with a single or multiple vehicles! Key features include locking and gadgets the vehicle, remote start, and locating your car without delay via Viper's lightning-fast connection.
Auto Alarm Specialist Near Me
As you can see, Directed Electronics (DEI) and its family of brands including the Viper Car Alarm is a great solution for anyone who wants to add additional protection from thief and to vandalize to their vehicle. Now the only thing you need to do is go to Google and search for auto alarm specialist neat me or call (786) 558-8848 to speak with a car alarm specialist at Car-Alarm-Miami.Com. And if you are still undecided, please stop by we offer a wide range of automotive alarm systems starting from $149 to well over $500.00!